Medicare Part D: Bush Makes a "Katrina" of a Drug Benefit!
President Bush lobbied hard for the Medicare Part D Drug Benefit.
As
reported
by the New York Times on 11/17/03:
Republican leaders began an intensive campaign on Sunday to sell their new agreement on Medicare drug benefits, racing to push the legislation through Congress over the objections of leading Democrats.

Senator Edward M. Kennedy, Democrat of Massachusetts, predicted that the measure as it now stands would not be approved by the Senate.

But President Bush hailed the agreement and said he would be "actively pushing the bill," one of his domestic priorities as he heads into a re-election year in which elderly voters are considered critically important.

Republican leaders said they were also counting on support from a powerful coalition of business and health care groups, as well as from AARP, the huge lobby for older Americans. John C. Rother, policy director of AARP, said Sunday that his view of the agreement was "generally favorable," though he wanted to see more details.

Senator Bill Frist, Republican of Tennessee, the Senate majority leader, expressed confidence that Medicare drug benefits would soon become a reality after "six years of empty promises, stalled negotiations and partisan gridlock."

Finally, Dr. Frist declared, the 40 million Medicare beneficiaries will be able to say: "Congress has delivered. Our government has delivered. Our president has delivered."
And yet, this Program is turning out to be another bungled attempt by this Administration at Domestic Policy.
For one thing, the government is PROHIBITED from negotiating with drug companies to allow seniors to obtain the benefits of such negotiating in terms of lower drug prices. In other words, the program prohibits the government, which would yield the greatest leverage in negotiations, from pressuring pharmaceutical firms to lower their prices for seniors.
As
reported
:
Price reductions are critical for beneficiaries. Most Medicare plans have a so-called "doughnut hole," where coverage stops for a while and people pay the whole bill out of their own pocket. If the drug plan can negotiate a 30 percent discount, that savings is passed on to the consumer.

VA and Department of Defense discounts average about 60 percent off the average wholesale price, according to a Congressional Budget Office study in June.

Medicare should shoot for similar discounts, said David Lemmon of Families USA.

"People ought to ask themselves, "Why do we have a plan set up to prevent a Medicare pool with 42-million beneficiaries negotiating a cheaper price?' In the end, that's what the pharmaceutical industry opposed for so long.

"Why do we have dozens of plans and dozens of negotiating pools all over the country?"
Instead of the government providing the pharmaceutical benefit for Medicare recipients, this Neoconservative Administration has empowered PRIVATIZATION, that has resulted in CHAOS for seniors, and especially those at the lowest rung of the ladder, the medicaid recipients with double coverage, have been transferred to the Plan D Program.
The stories of the bungling program are just starting to surface.
As
reported
by the Sun-Herald in Florida:
Besides a hectic schedule seeing patients at the Marion E. Fether Clinic in Immokalee, many with serious and chronic medical conditions, Quero finds himself hanging onto the telephone, trying to connect with insurance companies.

Nearly every day, he discovers that some of his patients who are "dual eligibles" have been lost in the transition to a Medicare drug plan. The massive federal program debuted on Jan. 1.

Before that date, these low-income and usually disabled patients had Medicaid coverage for medications and were supposed to be switched into Part D plans by the federal government. The intent was that there would be no lag in coverage, but that's not been the case.

"They're being dropped with no safety net," Quero said. "I would be sued if I treated my patients that way."

Widespread failure on the part of the Centers for Medicare and Medicaid to enroll low-income seniors into Part D plans, or computer glitches with drug-plan insurers and enrollee records, has practitioners on the front lines of patient care at wit's end.

Their fear is many of their patients will suffer dire setbacks when they can't get timely refills and some may wind up in emergency rooms.

The agency has told drug plan insurers and pharmacies to do short refills until glitches can be worked out, but that directive appears not to be working, practitioners say.

Even when enrollment snags get resolved, drugs that Medicaid paid for aren't necessarily covered by the Medicare plans, creating new stress for patients and caretakers to find substitutes or retain the favored medications some other way.
Or how about
this story
from California:
The Medicare prescription program is off to an inconsistent and uncomfortable start, and the Californians who have suffered worst are the most vulnerable elderly — those with mental illness, disabilities and little money. Many of them were forced from Medi-Cal, a state health program that worked, to the new Medicare program, where confusion is rampant.
In the last two weeks, thousands walked away from their pharmacies either empty-handed or with the pharmacies providing the drugs for free because the insurers weren't paying.
Or maybe you would like to read this
story
from Connecticut:
Especially those in the "dual" category. They are often the poorest and the sickest citizens, since they qualify for both Medicaid, which serves the poor; and Medicare, which serves the elderly and the disabled. This group didn't even need a new prescription drug plan in the first place.

"I never had problems getting any medication. Never," Hunt said from the condo she shares with her mother. Hunt was paralyzed from the waist down after a 1973 car accident. She has osteoarthritis, osteoporosis, hypoglycemia and asthma. She takes 12 medications every day, previously paid seamlessly by Medicaid.

Shortly after the new "Medicare D" law went into effect, Hunt went to pick up a pain med from Brooks Pharmacy on Hamden's Dixwell Avenue, where she said she has been doing business for years. It was her first post-D purchase.

"They couldn't fill it because they said Medicaid wouldn't accept it, and did I have a Medicare plan," she said.

Nothing could be done. She either had to pay for it or go without, which she said was not an option. Her bed had collapsed, injuring her back; she was in mucho pain. "I was in tears. I needed the medication," Hunt said.

So she paid the $47.95 for the drug. That came out of her total monthly income of $719 from Social Security Disability.
Or maybe this
report
from Arkansas:
"If I didn't have it I wouldn't be able to get my medicine," said senior Glenda Trantham. But when the New Year began the much anticipated Medicare Plan D Prescription Drug Benefit program started and yet millions who enrolled aren't on the list.

"They sent me a letter saying I was covered and I came in this morning to get some of my medicine and I am not even on file," said Trantham, "Signing up 21 million people from November 15th to December 31st isn't feasible, and to promise it to people was stupid."

As patients who still aren't in the system walk into their local pharmacies they are running into exorbitant costs for drugs that normally run them a couple dollars.

"This drug that I bought in December was $1.73 and today it was $14.54," said recipient Lora Telley. For elderly patients who have fixed incomes extra costs are bringing a lot of extra stress.

"I have to pay for some of them, I won't be able to pay my bills or I won't be able to pay my pharmacist," said Joan Russell. Some customers like Russell have to find ways to stretch their money and their medication a little farther now just to keep the lights on.

"What I'll do is take one day and one the next to make one prescription last 2 months," said Russell. Still some customers are overwhelmed by the costs and don't have the money to pay for them and local pharmacies like Gibson's pharmacy are having to help out.
Or this
report
from Oregon:
"It's mass confusion," said Dean Warner, pharmacist for Umpqua Drug Company, a Reedsport pharmacy. "The government set out to cut prescription costs, and the ones who are bearing the brunt of it are the retail pharmacies and the customers who can't get the drugs they need."

According to local pharmacists, since Jan. 1, customers have been trying to refill medications without insurance cards or proof of benefits. Phone lines and help centers for Medicare Part D plans are clogged with calls from pharmacies all over the country, causing long wait-times that keep pharmacists from verifying coverage.

"The wait times were terrible, and it basically meant we couldn't make those phone calls," said Steve Wilson, owner and pharmacist of Shindler's Pharmacy in Bandon. "We just can't tie up our phone lines that long, or our personnel."

Local pharmacies have been forced to decide between providing customers with an emergency supply of medications for free, in the hopes of verifying coverage once phone lines clear or insurance cards arrive, or turning seniors away.
Are you
SICK
yet?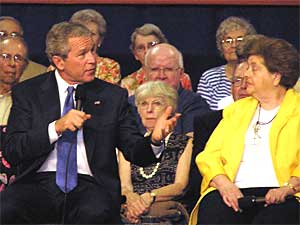 Before the implementation of this latest in a string of disasters from Bush, the President had
this
to say:
"This is a good deal. I recognize that part of the problem we have is to convince people who don't really -- some people don't want to change," said Bush. "You kind of get set in your ways, and it's just kind of inconvenient to change. But in this case, take a look at the change. Take a look at this program because it's worthwhile."
Once again, this President is wrong about policy.
And poor people and sick people and uneducated people get hurt.
A President who cuts taxes for the wealthy and takes benefits from the poor and the elderly.
A President who threatens the Social Security benefits with a cockamamey privatization plan a la Plan D.
America Deserves Better! We need new leadership in the White House. We need to send the Republicans packing and bring back the kind of America that doesn't enact policy that threatens the very health of our poorest and least able to provide for themselves but which instead tries to raise the level of welfare for all of its inhabitants.
We've got your back Senator Kerry! 2008 is just a short ways down the road!
Bob