Mad about "Mad Cow"
This is a section of a
human brain
showing spongiform pathology characteristic of Creutzfeldt-Jakob Disease.
This is a picture of a "downer cow" with neurologic disease from bovine spongiform encephalopathy ("mad cow").
This is a picture of an 18 year old victim of variant Creutzfeldt-Jakob Disease (vCJD).
This is an explanation of what Creutzfeldt-Jakob disease from the
Creutzfeld-Jakob Disease Foundation
:
Prion diseases are a group of rare, invariably fatal brain disorders which occur both in humans and certain animals. They first came to public attention in the mid 1980s in the form of the BSE epidemic in the United Kingdom. BSE (bovine spongiform encephalopathy) is a prion disease in cattle. Tissue from infected animals may have contaminated cattle feed, leading to the silent spread of the BSE epidemic. There is also a theory that BSE came from feed contaminated with scrapie, the long established sheep prion disease. Inevitably, concern over whether BSE could pass to humans mounted.

In humans the best known of the prion diseases is Creutzfeldt-Jakob Disease (CJD), which reportedly affects around one person per million per year. In the United States this translates to 250-300 new cases per year. It is well known that CJD is very difficult to diagnose leading to speculation that the one case per million report may be incorrect. Most of the cases are "classical" or "sporadic" CJD (sCJD), occurring for no, as yet, known reason. The sporadic form accounts for approximately 85% of the cases, the familial form approximately 15%. There have also been a few cases which have occurred from contamination via medical procedures; this type is known as iatrogenic or Acquired CJD. Finally over the last few years, another type of Acquired CJD called variant (vCJD) has been identified in young people. vCJD has been linked to ingestion of beef tainted with BSE (bovine spongiform encephalopathy), most cases have occurred in the United Kingdom.
This is a
picture
of our Secretary of Agriculture, Mike Johanns.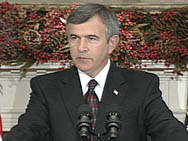 This is what
happened
about an equivocal mad cow test in November:
A third and more sophisticated test on the beef cow suspected of having mad cow disease would have helped resolve conflicting results from two initial screenings, but the U.S. refused to perform it in November.

That additional test, ordered up by the Agriculture Department's internal watchdog, ended up detecting mad cow - a finding that was confirmed on Friday by the world's pre-eminent lab, in England.
This is a
picture
of Phyllis Fong, the Inspector General of the Department of Agriculture.
Fortunately Ms. Fong thought it was the duty of the Department of Agriculture to
protect
the public. What a wild idea!
As
reported
:
Troubled by the conflicting test results, the department's inspector general, Phyllis Fong, ordered the Western blot test this month. By the time an aide notified Agriculture Secretary Mike Johanns, the testing was under way.
And was Secretary Johanns
happy
about what Ms. Fong's action? Did he commend her and thank her for
protecting
the American public?
No. Apparently he was "irked". The report continues:
Johanns, amid an uproar from the cattle industry, was irked that she did so without his knowledge or consent.

"From my standpoint, I believe I was put there to operate the department and was very disappointed," he told reporters Friday morning.
Even
though
Consumer groups and scientists urged the department to perform a Western blot test and seek confirmation from the lab in Weybridge, England.

In a letter to Consumers Union last March, the department said there was no need for the British lab to confirm the results and that the Western blot test would not have given a more accurate reading.

"We are confident in the expertise of USDA's laboratory technicians in conducting BSE testing," wrote Jere Dick, an associate deputy administrator. Mad cow disease is medically known as bovine spongiform encephalopathy, or BSE.
This is a picture of the President who put this team together: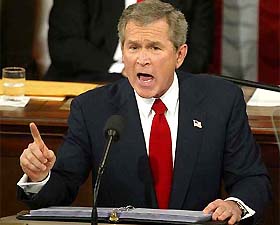 Isn't it time America had a President who defended our interests? Who made sure that the food we ate was safe! That the air we breathe is without pollution! That the water we drink is without contaminants!
It is time for new leadership in Washington! America deserves better!
Bob