Bush Administration unable to Kick the Habit!
It would take $5.2 billion/year for 25 years to help anyone smoking kick the habit.
As
reported
:

More than two-thirds of the 47 million smokers in the country say they want to quit, Fiore testified. Less than four percent of them succeed in doing so each year, he said. Fiore estimated that his plan would increase the annual success rate to at least one in five and would help "virtually all" smokers who want to quit within 25 years.

The plan would include a 24-hour toll-free telephone quit line with trained counselors, a media campaign to urge smokers to kick the habit, funding for research on smoking cessation, and training for U.S. doctors. It would also provide free over-the-counter nicotine replacement, including nicotine gum, patches and lozenges, and vouchers for prescription drugs, such as bupropion SR, an anti-depressant that has been used to help smokers quit.

Money spent on smoking cessation is 30 times as effective in saving lives as mammogram screening for breast cancer, Fiore testified.
$5.2 billion/year for 25 years would do the trick.
But cigarette companies appear to have a friend in President George W. Bush.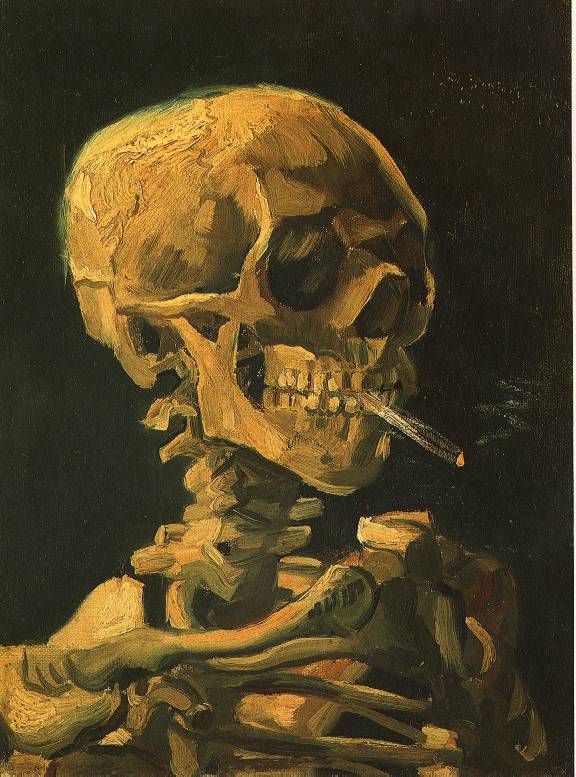 Painting
of Smoker by Van Gogh
It was surprising, to say the least, when the government, suing the tobacco companies, reduced their own request from $130 billion to $10 billion. As
reported
:
Without explanation, government lawyers late Tuesday asked U.S. District Judge Gladys Kessler to order an industry-funded five-year, $10-billion smoking-cessation program — instead of the 25-year, $130-billion program they had outlined previously.

In a statement issued Wednesday evening, Justice Department spokesman Eric Holland stressed that the $10-billion program was only "an initial requirement" that could be extended in the future if court-appointed monitors decide the industry is committing fraud. "All decisions relating to this case were appropriately made based upon the legal merits of the case," he said.
What's the big deal about a $100 billion gift to Big Tobacco?
Apparently, even career lawyers on the tobacco case were overridden by Senior Justice Department officials who insisted on the sharply reduced number.
As
reported
:
The trial team argued that the move would be seen as politically motivated and legally groundless.

"We do not want politics to be perceived as the underlying motivation, and that is certainly a risk if we make adjustments in our remedies presentation that are not based on evidence," the two top lawyers for the trial team, Sharon Y. Eubanks and Stephen D. Brody, wrote in a memorandum on May 30 to Associate Attorney General Robert D. McCallum that was reviewed by The New York Times.

The two lawyers said the lower penalty recommendation ordered by Mr. McCallum would weaken the department's position in any possible settlement with the industry and "create an incentive for defendants to engage in future misconduct by making the misconduct profitable."
This is not about conservative versus liberal. This is not about big government versus small government. This is not about the free market versus regulation. This is not even about tort reform.
This is about a Presidency that responds to the corrupting influence of big money, big oil, big tobacco, and hides under the phony banner of family values.
There are no family values in lung cancer, emphysema, and heart disease.
It is time for a breath of fresh air in Washington!
Bob